Athletic Training - Pittsburgh, PA | Sports Medicine
Since 1984, East Suburban Sports Medicine Center (ESSMC) has been the leader in providing certified athletic trainers to the schools Pittsburgh's eastern suburbs and managing sports-related injuries. To this day, you can find our certified athletic trainers providing on-site coverage during schools' practices and games. Our mission all these years? To help young athletes prevent and manage game-related injuries. 
Our athletic trainers work with younger athletes and school teams at Gateway High School in Monroeville, Plum High School, and Kiski Area School District. 
---
FAQs on Athletic Training:
What Exactly Is Athletic Training?
Athletic training is a branch of sports medicine involving the management, prevention, recognition, and rehabilitation of sports-related injuries. 
What Do Certified Athletic Trainers Do? 
Under the supervision of a licensed physician, certified athletic trainers administer immediate emergency and follow-up care for sport-related health issues and injuries. They also develop athletic injury prevention and treatment programs using their knowledge of biomechanics, anatomy, physiology, and nutrition. 
This is different than other areas of rehabilitative medicine, which focus more specifically on the structural health and motion-based needs of the body.
Athletic trainers also provide a vital communication link between the injured athlete, the physician, the coach, and sometimes the athlete's family. This communication is necessary to determine what treatment and rehabilitation approaches are needed, and when athletes can safely return to practice and competition.
What Do Your Athletic Training Services Include?
We utilize Healthy Roster(opens in a new tab), an exciting new communication tool that connects coaches, parents and administrators, so that every person on the care team can see the progress and status of every injury. Healthy Roster allows youth and club teams to have access to licensed athletic trainers simply by logging into an app. Learn more about how ESSMC's Athletic Trainers use Healthy Roster here.(opens in a new tab)
We do pre-season screening examinations and body fat assessments for injury prevention and developing fitness/conditioning programs.
Our athletic trainers work closely with coaches, administrators, and parents to ensure proper principles of exercise, practice, and competitive skills appropriate for the athletes' maturity and skill level to facilitate success with minimal risk.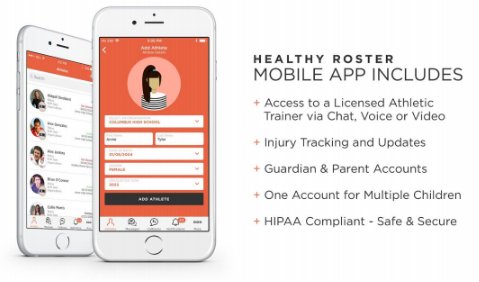 If you're looking for athletic training services in the Pittsburgh area or interested in learning more about using Healthy Roster to manage your team's sports medicine needs, please call us at (412) 856-8060 ext 113 or email Dr. Michael Tardio (michael@essmc.com)
---